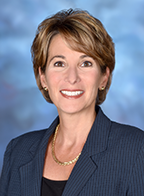 Terri Feely serves as Chief People Officer for Inova, leading and overseeing all aspects of the organization's Human Resources function. With more than twenty-five years of experience, Terri is a highly effective, visionary, and results-driven Human Resources leader who is recognized for creating unique company cultures that foster deep employee engagement and a high achieving workforce.
Prior to joining Inova, Terri operated her own Human Resources Consulting organization, providing strategic advice to both early-stage and mature high-growth companies as they worked to achieve their business goals. In addition, she coached and mentored Human Resource professionals and senior leadership across a wide-variety of industry sectors.
Previously, Terri served for eight years as the Senior Vice President of Human Resources at Asurion, a privately held global company that is the industry leader in technology protection with more than 15,000 employees. Under her leadership, the company was voted one of Washingtonian's "Great Places to Work" and the "Best Places to Work" by the Washington Business Journal.
Terri received her Bachelor of Science degree in Business Administration & Management from West Liberty University and her Master of Science in Human Resources Management from Marymount University. In 2011 she was recognized as the Human Resources Leader of the Year by the Human Resources Leadership Association of Greater Washington.