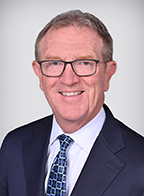 John J. Moynihan, MD, is President of Inova Surgical Services, with oversight responsibilities for the service line across all Inova hospitals.
Dr. Moynihan has also served as Chair of the Department of Surgery at Inova Fairfax Medical Campus since 2013. A specialty care physician board certified in general surgery, he has a special interest in management of breast, colon, gallbladder, hernia, and thyroid/parathyroid surgeries. He became interested in general surgery because it allowed him to apply his training and education to assist patients with a variety of surgical issues.
Dr. Moynihan is a Phi Beta Kappa graduate of Holy Cross College and the Georgetown University School of Medicine. He completed a surgical residency at Georgetown and a peripheral vascular surgery fellowship at the University of Tennessee. He is involved in surgical education at both the undergraduate and graduate levels, with appointments as a Professor of Surgery and Clinical Professor with the Virginia Commonwealth University School of Medicine. His interest in advancing technologies and innovative approaches to the care of patients was initially recognized when he performed the first laparoscopic cholecystectomy at Inova Fairfax in 1990. He is an advocate for the safe delivery of surgical care through multidisciplinary teams training, standardized practices and outcomes research.
A native of Massachusetts, Dr. Moynihan currently resides in Northern Virginia with his wife. In his spare time he likes to bike, travel, and visit their children.