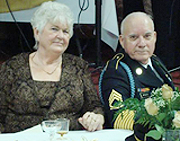 John and Jutta Brooks celebrated their 50th wedding anniversary in 2008. It was a celebration that simply could not have occurred if John had not undergone a successful lung transplant at Inova several years ago. 
John and Jutta met in May 1955 in post-war Germany where John was stationed with the U.S. Army. They married in February 1958 and spent the next 20 years traveling the globe while raising their four children. John served in both the Korean and Vietnam wars.
John retired from Army life and began a second career spanning 22 years with the Virginia Highway Department. The couple retired to Pennsylvania in November 1999. Soon after John developed breathing problems which eventually led to a diagnosis of pulmonary fibrosis.
"We had never heard of this disease," Jutta said. John and Jutta received the sobering news from their physician that a lung transplant was John's only hope. He was referred to Dr. Nathan at Inova Fairfax Hospital and the rest, as they say, is history.
John received his life-saving lung transplant on May 13, 2001. The couple relocated to Woodbridge, Virginia, to be closer to their children, grandchildren and the transplant center staff from whom John still receives his care.
2008 was a momentous year as family and friends traveled from as far away as Germany to celebrate with John and Jutta on the occasion of their 50th wedding anniversary. Jutta says it was the largest of all their family reunions. And she adds that had it not been for the donor family, doctors, nurses and all the staff at the transplant center, "we would not have had the chance to celebrate our 50th anniversary. Thank you!"