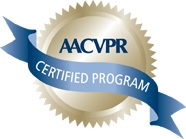 Inova's comprehensive Pulmonary Rehabilitation Program is a medically supervised, therapeutic treatment program designed to help patients with pulmonary disease improve their quality of life and exercise capacity.
Inova Fairfax Hospital serves as the standard for pulmonary rehabilitation in the United States, featuring the only Inova program that collaborates with the National Institutes of Health. Additionally, we offer pulmonary rehabilitation at Inova Alexandria Hospital and Inova Loudoun Hospital.
All programs are certified through the American Association of Cardiovascular and Pulmonary Rehabilitation.
Learn more about the program at each location