Pulmonary hypertension (PH) refers to elevated pressure in the vessels of the lungs. If affected, the arteries and veins in the lungs become narrow and stiff. As the result, the right side of the heart has to work harder to pump blood through the lungs. If left untreated, PH can lead to right heart failure.
The Pulmonary Hypertension Program at Inova Fairfax Hospital provides the highly specialized multi-disciplinary care required by patients dealing with various types of PH. Inova's lung experts are nationally-recognized for their expertise in diagnosing, treating and managing PH, utilizing the most effective treatments available. Our program has long been recognized for its research of different forms of pulmonary hypertension.
Our Team
Our team is very active in pulmonary hypertension advocacy, fundraising and education. Read our most recent annual patient letter from program Director, Dr. Oksana Shlobin to learn more about what we do.
---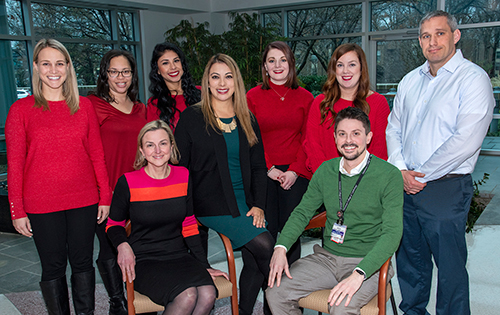 Bottom row left to right: Oksana Shlobin, MD,
Julieth Munoz (seated), and Aaron Bagnola, Pharm D.
Top row left to right: Nikki Sisserson, PA, Alicia Echols, RN, Andrea Grajeda,
Shanna Guzman, RN, Johanna Coughlin, RN, and Chris King, MD.
---
The PHA continues to acknowledge our team's vast experience and expertise. In October 2017, Dr. Shlobin, Pulmonary Hypertension Program Director, was invited to a two-year term on the PHA Scientific Leadership Council. She also serves on the PHA Oversight Committee. Dr. Shlobin routinely participates in the bi-annual PHA symposium and is a member of the PH council of The International Society For Heart and Lung Transplantation, as well as the Pulmonary Vascular Steering Committee for the American College of Chest Physicians (ACCP). Additionally, Dr. King serves on the Standards and Guidelines Committee for ACCP. Read more about our team.