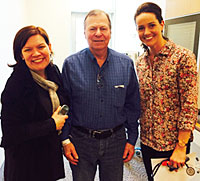 In April 2011, I was having breathing issues and was directed by my primary care physician to see Dr. Dicicco, a pulmonologist at Inova Fair Oaks Hospital. After a year of testing I was told I had idiopathic pulmonary fibrosis (IPF). I had been on oxygen 24/7 and he recommended that I enroll in the pulmonary rehab program at Inova Fairfax Hospital and try to qualify for a lung transplant.
I began rehab in July 2012 and was surprised how much of my strength I had lost. During the 2 ½-month program, I met regularly with the transplant coordinator and a number of physicians including Dr. Nathan, Dr. Brown, Dr. Shlobin and Dr. Ahmad.
The transplant coordinator scheduled a significant number of tests that would determine my fitness and health status and hopefully would qualify me for the transplant waitlist. After nearly eight months, I finally was accepted onto the list in February 2013. With the guidance of my coordinators, Kara Germano and Meg Fregoso, every test result was discussed and evaluated for compliance, all with the goal to keep me on the list.
On October 27, 2013, eight months after being waitlisted and 2 ½ years after my diagnosis, I received my transplant. My entire team from the Transplant Center visited every one of the six days I spent in the hospital. I was walking around the patient floor without oxygen the first day after my transplant. My family was amazed and thankful that I could walk more than ten feet without stopping for a breath.
Once released, Kara Germano was my weekly contact to review my progress and to adjust my medications. After one week I was hospitalized due to an issue with a blood clot in my remaining original lung. This was resolved with the excellent care of my transplant doctors and I have not been hospitalized since.
It has been 16 months since my transplant and I still meet with Kara or Meg to evaluate my status and receive any medication adjustments. They continue to schedule my bronchoscopies and X-rays, along with my clinicals with a transplant team physician.
I want to thank the entire transplant team and my family for all of their support. I have received this gift, thanks to them, and of course to the donor, whom I will never forget. I also thank God for bringing all of us together to achieve this miracle.