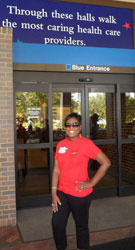 In 2004, after several misdiagnoses, I learned I had IPF [Idiopathic Pulmonary Fibrosis] at age 38. A year later I was listed for a lung transplant at Inova Fairfax Hospital. Another year passed and, unfortunately, I had to be taken off the list because I was diagnosed with breast cancer. An awesome oncology team went to bat for me and I had a single mastectomy.
Once cancer free, I was so happy to be placed back on the transplant list and eight days later, May 8, 2006, was transplanted with a single lung at age 40.
The transplant was successful for about one week. Then things started to go terribly wrong. I was placed back on a ventilator. Because I continued to try to breathe on my own and fought the ventilator, my transplant team gave me a paralytic which put me in a drug-induced coma for six weeks. It was very challenging. As Dr. Nathan put it, "everything that could go wrong, did."
It was very touch and go, but with the help of my very supportive husband, Barry, and my determination, I went home in October 2006. I spent two months at Inova Fairfax Hospital and another three months at Inova Mount Vernon Hospital's Rehabilitation Center where I re-learned how to talk, walk, eat and many other of life's basic skills.
Prior to my transplant I was restricted from traveling for several years. I truly missed it, as I had worked as a travel consultant and traveled the world. However, since my transplant, Barry and I are back in the wind. We took nine trips in 2007 alone. I'm also back to work part time and currently am Mary Kay cosmetics consultant. I love it.
I pray for as many years as possible. This whole experience has taught me that life is precious and everyone should treat each day as if it were their last. The fear of death from a transplant initially kept me from pursuing the surgery. But now that fear has been replaced with a passion for life. I have the gift of gab and a strong desire to reach out to help others. My daily goal is to give back through working with local support groups. One day I'd like to organize my own support group foundation.
In August 2010, I competed in my first U.S. Transplant games. I played on the volleyball team and threw the shot put. I even ran the 100m dash. I finished last in my age group, but in my mind, there was no first or last place. Everyone won!
A Tribute to Doris Lowenthal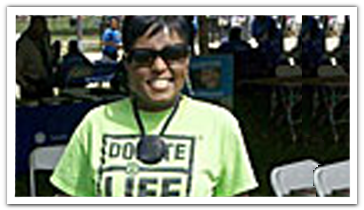 This inspiring and much-loved woman lived her life with high-powered energy and a deep-seated commitment to others. Read "A Tribute to Doris Lowenthal: Doris Lived in Living Color" by Teresa Barnes of the Coalition for Pulmonary Fibrosis.