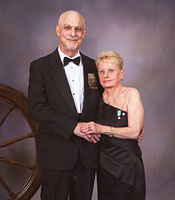 I was diagnosed with idiopathic pulmonary fibrosis (IPF) in spring 2010 after having chronic breathing difficulties, a bout with pneumonia, countless x-rays and a right lung biopsy. The disease had completely taken over my right lung and was half way through my left one. Later that year I was prescribed home oxygen and once I needed it 24/7, I knew I had to quit my job.
My pulmonologist at Walter Reed Hospital had done all he could do to help me (although he never told me how grim my situation was). He did, however, give me two referrals that together saved my life. First, he suggested I start pulmonary rehab, which I did at Sentara Hospital in Woodbridge, VA, near my home. The second referral was to start a dialogue with the Inova Transplant Center in Fairfax, VA, which I also did. By late 2011 I was doing pulmonary rehab two to three times a week and going through the many tests to qualify for a lung transplant.
I worked very hard at rehab and in June 2012 was told I was now on the national lung transplant waitlist. The timing couldn't have been better. Try as I might, my performance numbers were dropping at rehab, and it was frustrating. I continued to maintain a positive and upbeat approach to things, though, and followed my doctors' orders to the letter, a natural reaction for someone who had served more than 30 years active duty in the U.S. Coast Guard. Still, despite my "survivor" instinct and positive attitude, I knew the disease was worsening. In early August 2012 I matter-of-factly told my doctor at the transplant clinic I wasn't sure I'd live long enough to get a transplant.
Later that month, my wife found me asleep in a chair, barely breathing and was unable to wake me. I have no recollection of being taken by ambulance to Sentara Hospital, being airlifted to Inova Fairfax Hospital, the eight-day medically-induced coma, or being in surgery. I only recall waking up and hearing from my wife that I had a new lung. At least I didn't experience the angst of getting "the call" like most patients on the waiting list.
My wife told me about the previous eight days and said the doctors at Sentara and Inova both had given me 24 hours unless I could get a transplant. An "adequate" lung was available, so I was prepped for surgery.Shortly thereafter a nearly "ideal" lung was identified in the Norfolk area and it was immediately flown to Inova. The rest, as they say, is history.
The eight-day coma and subsequent four weeks in ICU took its toll on my body and I lost 30 pounds. With little remaining muscle tone, I had to learn to walk again and underwent two weeks of physical therapy before finally returning home using a walker, then a cane, then walking without any assistance. It was a difficult time relearning how to doing things normally again but I continued to follow orders, including those of my incredible caregiver, my wonderful wife Mare, who I lovingly refer to as Nurse Ratchet. It's called tough love but it works!
Soon I returned to pulmonary rehab and my first day back was truly amazing. The patients couldn't wait to greet me and they were delighted to see me back. The sad part is most of my fellow pulmonary rehab patients, for one reason or another, do not qualify for a life-saving lung transplant so their only hope of maintaining (and perhaps improving) their current quality of life is to continue rehab. They are all real heroes to me, so I work hard at every rehab session with them. We all root for each other regardless of our individual medical situations.
I regained most of my lost weight and muscle tone within a year of my transplant. I asked if I could be a volunteer at Sentara's Cardiac/Pulmonary Rehab Clinic and began working there in September 2013, primarily with pulmonary patients. I do all the normal volunteer duties, i.e., wiping down exercise equipment and weights after use, getting oxygen tanks, setting up machines for patients, etc. But I also enjoy talking with the patients and encouraging them during their workouts. I know exactly what most of them are going through, having been there myself. Literally every one of the pulmonary patients find it hard to believe that I was once using oxygen 24/7 and found it difficult to climb a flight of stairs. Hopefully, I am helping them cope with their own medical situations and offering them hope. Its something I feel I owe to them, to myself, to my family, to my friends, to my doctors and nurses, to all who prayed for me, and most importantly to the spirit of the deceased individual I don't know (yet) whose lung gave me my life back.
Bottom line: Keep a positive outlook whether you're pre-transplant or post-transplant. Follow the orders of your doctors and nurses (and especially your special caregiver), take your meds, and exercise whenever you can, be it at a rehab facility, fitness club or at home. If you're fortunate enough to receive a transplant, or if you've already received one, be thankful and take good care of that incredible gift.