Cystic Fibrosis Patient's Repiratory Failure Turns to "Miracle Story" After Critical Transplant Decision
Inova's advanced technologies, dedicated patient care, and Jackie's persevering attitude and spirit have been the keys to her success.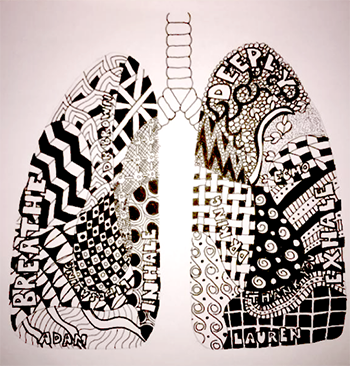 It doesn't get more critical than the situation Jackie Price, age 25, faced in June of 2016. Born at Inova, Jackie has been treated for advanced cystic fibrosis there since 2014 when she also began evaluation for a lung transplant.
That day in June, Jackie was admitted for a fairly routine sinus surgery. She figured she'd be out of the hospital in a week or so and soon after back at her job in the finance department of a European grocery chain.
"Instead I was in the hospital 136 days," Jackie says. A few days after her surgery, she had increasing difficulty breathing and required transfer to the ICU. She was intubated, sedated and suffering from respiratory failure. Her lungs continued to deteriorate and she was placed on an ECMO machine, which provides cardiac and respiratory support to persons whose heart and lungs are unable to sustain life. Doctors worried she wouldn't survive a much-needed lung transplant, but with youth on her side, they decided to take the risk. Jackie underwent the transplant on June 21.
"It has been a long, long, recovery," Jackie says. Her lung function continues to improve significantly, effectively curing the cystic fibrosis in her lungs. "When I woke up I could only move my fingers," Jackie recalls. "I had hours of physical therapy to get moving again." Despite the setbacks, she is delighted to be walking, albeit with a walker, and she recently celebrated her graduation from weekly visits to the transplant center to once every two weeks.
The important technologies available at Inova are at the heart of what Jackie and her doctors call her miracle story. But all agree that Jackie's spirit, strength and ability to stay positive are also key. "Jackie is mature beyond her years, and is one of the most determined and focused patients we have met. Her fighting spirit, abounding family support, and ability to handle a complex medical regimen have allowed her to survive this toughest of situations," says Dr. A. Whitney Brown, Director of the Inova Adult Cystic Fibrosis Program and Director of Clinical Operations for Advanced Lung Disease and Lung Transplant Program.
Jackie responds that her outlook wouldn't have been possible without the caring gestures — big and small — from Inova staff. There was the ICU nurse who stayed with her for hours during a particularly rough day when ICU psychosis was setting in. Jackie's mom couldn't always be with her at night because she also cares for Jackie's dad, who has severe muscular dystrophy. On those nights it wasn't unusual for a nurse to stay with her, rubbing her arm until she got comfortable enough to fall asleep. Then there was the ICU team and her doctors who conspired to find a corner in the back of the unit where Jackie could celebrate her 25th birthday with a group of loving and supportive friends, all dressed in their pajamas. "That was one of my best days at Inova," Jackie recalls.
"I've been in the hospital with Jackie and my husband for days on end, but I have never seen anything like this," says Jan Price, Jackie's mom. The first few weeks those nurses just didn't stop. The level of care Jackie received — I'm talking about skill, the ability to sustain concentration and performance to keep someone alive, well, we just had to step back and let these people do what they do best."
In addition to followup treatments and regular dialysis, Jackie makes a point of getting out once a week to see friends -- doctor's orders! "I really enjoy that. It keeps me going. My goal is to be back at work by the summer," she says. "Recovery is a slow process but I am feeling better every day. I'm so grateful my parents, and the doctors and nurses at Inova have gotten me to the other side of this."
Watch Jackie tell her story in this short documentary produced by Steven Blue.