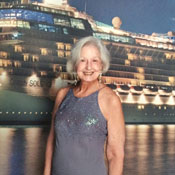 Historically, I was a very healthy person except for my weight. I never smoked. My only hospital stays were to have my tonsils removed at age five and to give birth to my children. I went out three nights a week and traveled about 30 percent of the time.
In August 2010, I had a cold that did not end. I commuted via public transportation and found it difficult to walk more than a block. I had a full physical and was seen by specialists. Test results showed all to be quite well except for my lungs. By late October I was in the emergency room with respiratory failure.
Thus began a journey that changed my life. I went on oxygen 24 hours a day. I was diagnosed with nonspecific interstitial pneumonia (NSIP) related to scleroderma. In February 2011, I was placed on the Inova transplant list and by May, I needed ten liters of oxygen to exercise. Luckily, I received a single lung transplant on May 30, 2011.
It has been a true journey. With the help (and gentle encouragement) of the Inova staff, I became more active and now lead a full life. I love to travel and decided I would do a bit more each time. I flew to Oregon and Germany and have gone on four cruises since my transplant. I have seen art exhibits in Washington, Philadelphia and New York. Richmond is next on the list. I can walk more than six miles without getting winded. This past December, I participated in the Kennedy Center's Messiah Sing Along.
My advice?