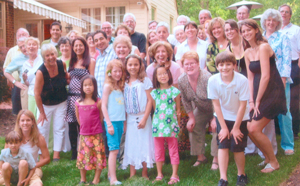 Lolly Gilmore from Midlothian, VA, underwent a single lung transplant on May 8, 1999. Now, nearly ten years to the day, she happily celebrated a decade of renewed health and vigor with a large group of her friends and family.
Lolly is responsible for nominating Dr. Steve Nathan, Medical Director of Inova Heart and Vascular Institute's Advanced Lung Disease and Transplant Program, for the prestigious Douglas Southall Freeman award. The award, which Dr. Nathan received in early June 2009, is the highest honor bestowed by the American Lung Association of Virginia.
Lolly recalls, "I liked him from the first day I met him. He listened and I learned to trust him. Thanks to Dr. Nathan, I have had the opportunity to see my grandchild grow and to travel to places around the world I never thought I'd see."
Thank you, Lolly, and congratulations on your 10th anniversary.