Inova's expert thoracic surgeons work hand-in-hand with many specialists, including our Interventional Pulmonology team to diagnose and treat lung cancer and other thoracic malignancies.
Advanced Practice Providers
Our team of dedicated thoracic nurse practitioners helps coordinate patient care before, during and after surgery. They also assist our surgeons in the operating room.
Thoracic Oncology Nurse Navigator

Lung Navigators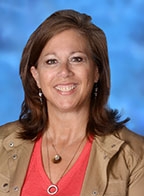 Nancy Collar, RRT-NPS, AE-C, ACCS
Lung Navigator
Nancy Collar is a board-certified, registered respiratory therapist (RRT) with 36 years of experience and additional certifications in asthma education, adult critical care and neonatal/pediatric respiratory care. Throughout her career, she has worked with all types of patients – including medical, surgical, cardiovascular, trauma/emergency, neurology, pediatric, neonatal, ECMO and home healthcare. She also has experience in varying management and research roles and was involved in cutting-edge clinical trials for patients with acute respiratory distress syndrome (ARDS).
Nancy's passion is helping others. She strives to make lung disease "simple" for her patients, providing them with the education and tools they need to have the highest quality of life possible – because "If you can't breathe, nothing else matters."
In her spare time, Nancy enjoys spending time with her husband of 27 years, her dog and her two beautiful daughters. She loves the outdoors – especially the beach.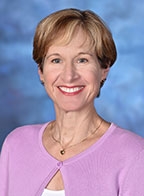 Frannie Muldowney, BS, RRT
Lung Navigator
Frannie Muldowney is a board-certified, registered respiratory therapist with 14 years of experience. She specializes in adult critical care and has additional training in pulmonary function testing, bronchoscopy and interventional pulmonology.
Frannie finds facilitating lung health for patients with pulmonary disease and respiratory conditions to be rewarding. She is a member of the National Board for Respiratory Care, the American Association for Respiratory Care, and the VA Society for Respiratory Care. She has also served as a respiratory clinical instructor and lab instructor for J. Sargeant Reynolds Community College.
Outside of work, Frannie enjoys family time, friends, running, reading, and being on the river.