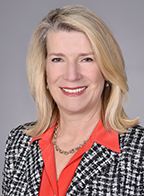 Alice Pope, MBA, CPA, Chief Financial Officer of Inova Health System, is responsible for financial operations including financial reporting, revenue cycle operations, managed care contracting, treasury and investment management. Additionally, her responsibilities include capital planning and forecasting. As part of Inova's executive leadership team, Alice's management and guidance ensures financial stability of the organization, assuring healthcare service programs continue to meet the needs of our patients and the community at-large.
Alice has over thirty years of professional experience in finance – twenty years specifically in healthcare. Prior to joining Inova, she served as Senior Vice President and Chief Financial Officer at HonorHealth in Arizona. Directing a broad range of financial and revenue cycle activities – including investment and treasury management, financial reporting, auditing, supply chain and payor contracting – her work contributed to a number of HonorHealth's successful strategic initiatives including the development of a sixth campus focused on ambulatory services.
Prior to HonorHealth, Alice was Executive Vice President/CFO at Wellmont Health System and CFO of Mississippi Market Hospitals at Baptist Memorial Health Care. She also has served in the audit practice at Arthur Andersen LLP.
A native Virginian, she holds a BS in Commerce, Accounting Concentration from the University of Virginia, as well as an MBA from East Tennessee State University.