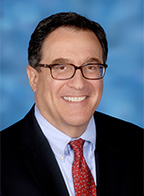 Marshall Mintz, MD, is President of Inova's clinical platforms service line and Senior Vice President of Inova Health System. In this role, he is responsible for leading Inova's comprehensive clinical platforms, including diagnostic imaging, interventional radiology, medical lab testing, pathology, pharmacy, respiratory therapy and clinical nutrition.
Marshall earned his bachelor's degree from Duke University in Durham, NC, and his medical degree from Cornell University Medical College in New York.
Following a pediatrics internship at Strong Memorial Hospital at the University of Rochester Medical Center, Marshall joined the New York Hospital – Cornell Medical Center staff, where he did his radiology residency and became Chief Resident. He then completed a fellowship in CT and ultrasound at Brigham and Women's Hospital at Harvard Medical School in Boston and later joined the Department of Radiology at the Hospital of the University of Pennsylvania School of Medicine in Philadelphia. After joining Fairfax Radiological Consultants in 1988 as an attending radiologist, he became Chairman of Inova Fairfax Hospital's radiology department in 1995 and subsequently President of Fairfax Radiological Consultants in 1998.
Marshall resides in Washington, DC, with his wife and has three adult sons. In his free time, he enjoys gardening, attending a variety of sporting events and visiting many of the museums in DC.