Compassionate Environment, Caring Staff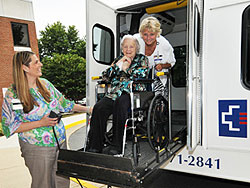 If health issues or family circumstances have made it necessary to consider a transition to a nursing facility (for yourself or a family member), Inova Loudoun Nursing and Rehabilitation Center (ILNRC) can help.
Our private, 100-bed not-for-profit skilled nursing facility is a department of Inova Loudoun hospital and an integral part of Inova's highly respected continuum of care. We are licensed by the Virginia Department of Health, Office of Licensure and Certification, and accredited by The Joint Commission.
Nationally Recognized Expertise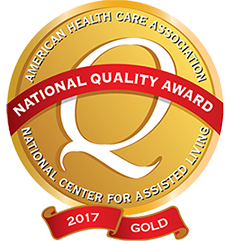 Inova Loudoun Nursing and Rehabilitation Center (ILNRC) has been the recipient of many prestigious accolades for its continued commitment to patient safety and quality care. Our facility has been nationally recognized by the following organizations and institutions:
The Joint Commission
U.S. News & World Report
American Health Care Association
Centers for Medicare and Medicaid Services (CMS)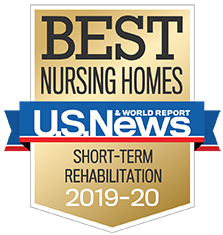 We are designated a 5-star facility by CMS (Centers for Medicare & Medicaid Services) and are among the 19% of U.S. skilled nursing facilities that have been recognized as a Best Nursing Home for 2019-20 by U.S. News & World Report.
Our facility earned the 2017 Gold – Excellence in Quality Award by the American Health Care Association and National Center for Assisted Living (AHCA/NCAL). This honor recognizes their superior performance in the long term and post-acute care profession. ILNRC was one of only three providers nationwide to receive the 2017 Gold – Excellence in Quality Award. Since the program's inception in 1996, AHCA/NCAL has recognized only 31 organizations with awards at the Gold level, excluding this year's recipients.
Our Services
A full range of services meets the varied and changing needs of our residents. We offer:
Short term skilled nursing care following an acute hospitalization or surgery, with tailored care and rehabilitation programs to help each resident achieve his or her maximum potential
Long term care in a progressive, homelike environment that offers a bounty of leisure-enhancing and enriching activities, from gardening, crafts and reading to group socializing and entertainment
A full complement of rehabilitation services, including physical, occupational and speech therapy
Supporting services to maximize the safety, health and happiness of our residents.
Contact Us
We are here to answer your questions about Inova Loudoun Nursing and Rehabilitation Center. Contact one of our admissions coordinators by phone or email:
Review Admissions Packet