Temporary Restriction on All Visitation
To lessen the impact of coronavirus, COVID-19, in our facility, and to ensure our residents safety remains the top priority, ILNRC is restricting all visitation at this time.
We do not have any residents with the virus. We have taken several proactive measures to include high level disinfection several times a day on all high touch areas, providing personal protective equipment (PPE) to team members and any other person who would come in contact with a resident for our residents protection, and are offering alternate methods of communication for residents and their families. We have also increased team members' education and training to ensure everyone is staying as safe as possible.
People in normal social circumstances can spread the virus which, given our health-compromised community, can prove serious to our residents, patients, team members and visitors.
Thank you for understanding. If you have any questions, please call us at 703-771-2841.
Compassionate Environment, Caring Staff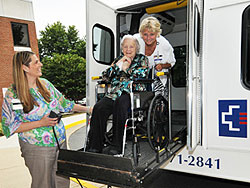 If health issues or family circumstances have made it necessary to consider a transition to a nursing facility (for yourself or a family member), Inova Loudoun Nursing and Rehabilitation Center (ILNRC) can help.
Our private, 100-bed not-for-profit skilled nursing facility is a department of Inova Loudoun hospital and an integral part of Inova's highly respected continuum of care. We are licensed by the Virginia Department of Health, Office of Licensure and Certification, and accredited by The Joint Commission.
Nationally Recognized Expertise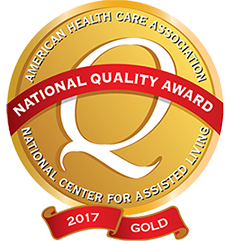 Inova Loudoun Nursing and Rehabilitation Center (ILNRC) has been the recipient of many prestigious accolades for its continued commitment to patient safety and quality care. Our facility has been nationally recognized by the following organizations and institutions:
The Joint Commission
U.S. News & World Report
American Health Care Association
Centers for Medicare and Medicaid Services (CMS)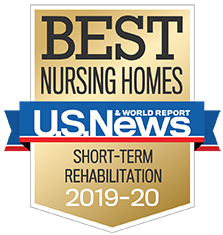 We are designated a 5-star facility by CMS (Centers for Medicare & Medicaid Services) and are among the 19% of U.S. skilled nursing facilities that have been recognized as a Best Nursing Home for 2019-20 by U.S. News & World Report.
Our facility earned the 2017 Gold – Excellence in Quality Award by the American Health Care Association and National Center for Assisted Living (AHCA/NCAL). This honor recognizes their superior performance in the long term and post-acute care profession. ILNRC was one of only three providers nationwide to receive the 2017 Gold – Excellence in Quality Award. Since the program's inception in 1996, AHCA/NCAL has recognized only 31 organizations with awards at the Gold level, excluding this year's recipients.